367ISS Post-War Germany: From Division to Unification and Beyond

This module explores the political and economic history of the German nation from its division at the end of the Second World War to its reunification in 1990 and beyond. The particular geographic and political situation of Germany on the frontline in the cold war made her a test case for East–West relations, until the fall of the Berlin Wall gave her the opportunity to bring a century shaped by German aggression to a peaceful close. The module examines the international significance of the two German states and their internal developments over the 40 years of division, and the social and economic impact of the subsequent unification on the nation as a whole. In addition, Germany's attempts to exorcise the ghosts of its National Socialist and Stasi past are explored, as well as the re-surgence of the Left and the Right as political movements in the more recent past.
Essential Reading

2 items

An annually updated full reading list and list of other resources to support this module can be found in the Teaching Plan and Module Resource Document, available to enrolled students via the module web.

It is recommended that you buy at least one of the following:

3 items

Essential Reading

2 items

Recommended Reading

26 items

The German polity - Conradt, David P., Langenbacher, Eric 2013 (electronic resource)

Book

Online chapters and articles

11 items

Works covering both Germanies

10 items

Unification and Germany since 1990

15 items

Dealing with the past

17 items

Audio-visual resources

10 items

There are various audio - visual resources available from Media Services in the Library. For example, a search for 'Stasi' will show several DVDs on the subject.
CC-Zero Public Domain Dedication
Profile Required
Reading intentions and notes are stored against your user profile. Please create a profile to use this feature.
My notes
You must be logged in to add a note
What are item notes?
You can use item notes to make personal notes on any of your reading items. Notes are private to you and will not be shown to other users.
You can review your item notes from the list, the item page or from your profile page.
---
How do I create an item note?
To make notes, first you must be logged in. Once logged in, simply click Add note? next to the list item you wish to make notes on. You can also make notes at the bottom of every item's detail page.
Your note will be saved automatically as you type.
Have you read this?
You must be logged in to set a reading intention
What are reading intentions?
Setting up reading intentions help you organise your course reading. It makes it easy to scan through your lists and keep track of progress. Here's an example of what they look like: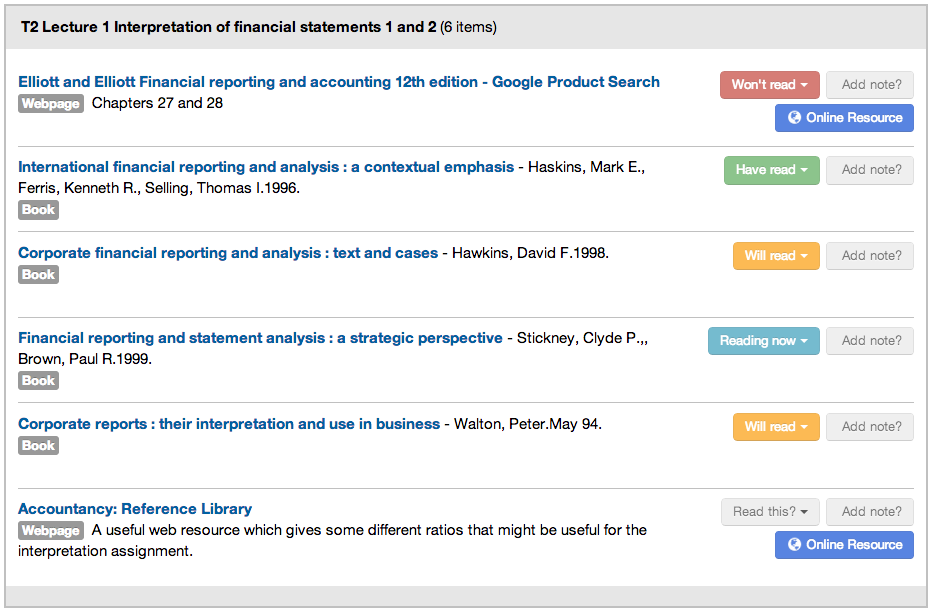 Your reading intentions are also stored in your profile for future reference.
---
How do I set a reading intention
To set a reading intention, first you must be logged in. Once logged in, click Read this? next to the list item you wish to set a reading intention for.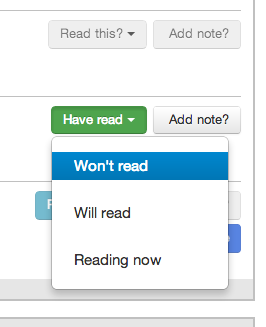 You can also set the reading intention from every item's detail page.